---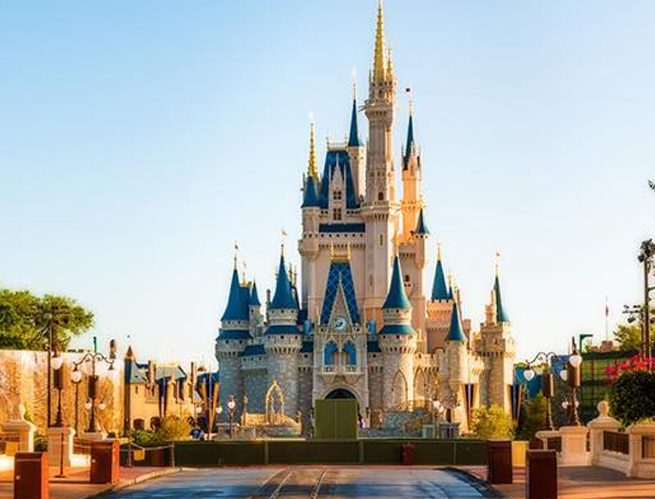 The Walt Disney World Resort, also called Walt Disney World and Disney World, is an entertainment complex in Bay Lake and Lake Buena Vista, Florida, in the United States, near the cities Orlando and Kissimmee. Opened on October 1, 1971, the resort is owned and operated by Disney Parks, Experiences and Products, a division of The Walt Disney Company. It was first operated by Walt Disney World Company. The property, which covers nearly 25,000 acres (39 sq mi; 101 km2), only half of which has been used,[2] comprises four theme parks (consisting of Magic Kingdom, Animal Kingdom, Epcot, and Disney's Hollywood Studios), two water parks, 27 themed resort hotels, nine non-Disney hotels, several golf courses, a camping resort, and other entertainment venues, including the outdoor shopping center Disney Springs. Designed to supplement Disneyland, in Anaheim, California, which had opened in 1955, the complex was developed by Walt Disney in the 1960s. "The Florida Project", as it was known, was intended to present a distinct vision with its own diverse set of attractions. Walt Disney's original plans also called for the inclusion of an "Experimental Prototype Community of Tomorrow" (EPCOT), a planned community intended to serve as a test bed for new city-living innovations. Walt Disney died on December 15, 1966, during construction of the complex. Without him spearheading the construction, the company built a resort similar to Disneyland, abandoning the experimental concepts for a planned community. Magic Kingdom was the first theme park to open in the complex, in 1971, followed by Epcot (1982), Disney's Hollywood Studios (1989), and Disney's Animal Kingdom (1998). Today, Walt Disney World is the most visited vacation resort in the world, with average annual attendance of more than 52 million.[3] The resort is the flagship destination of Disney's worldwide corporate enterprise and has become a popular staple in American culture.
February 12, 2023
Nathan's Famous can be found all over, in malls, airports, even in your grocery store. However, Nathan's Famous at Coney Island is where it all started.
February 11, 2023
Disney's Yacht Club Resort and Disney's Beach Club Resorts are known for high-end restaurants with amazing food, although sometimes you just want some old fashioned American classics. Beaches & Cream Soda Shop is the place for you.
February 1, 2023
Here is the initial lineup for the Garden Rocks Concert Series which begins on March 3 and runs through July 3rd! March 3-4 – Journey former lead vocalist STEVE AUGERI March 5-6 – Daughtry [more]