10 Things To Do at Walt Disney World Without Kids
1. Walk more.
That seems like a silly thing to say. After all, the shortest lap around Epcot itself is almost 3 miles. If you combine all 4 parks, some people have charted just a single lap "around the world" at 8-9 miles. It wouldn't be out of the realm of possibility to walk 70 miles or more altogether for a week long vacation. My dogs are barking just thinking about it! Well, what I mean is that I would actually walk, stroll, saunter, and dawdle more. I would take my time and not be in such a rush. Sure, I would still take advantage of FastPasses and all that, but I would do less criss-crossing and just enjoy attractions as I came to them. So probably, hopefully, I would actually walk less.
2. Read signs.
There is so much information and little details in the Disney Parks that we usually rush past. I would love to learn more at Epcot, especially in Project Tomorrow, Innoventions (Is there anything left at Innoventions?), The Land, & The Seas pavilions.
I would love to learn about the animals at Animal Kingdom. Wait, what? There are animals at Animal Kingdom?!?! Ha ha I know, I've rarely seen them before too. I don't think I have ever done the Discovery Island Trails before. I know I couldn't tell you a single animal found in the Oasis.
And then there are the windows on Main Street and the newly re-imagined Walt Disney Presents and all the decor in the queue for Big Thunder Mountain, and on and on and on. There's so much that I've "walked" past a dozen times and I've never seen. Its a completely different method doing Disney World without kids.
3. Explore the World . . . Showcase.
Sure, we drag our kids around the World Showcase every time we visit Epcot. The Kidcot stations are cute and the cast members that sit at those tables are usually very engaging. But it still doesn't hold kids' attention, which means we, as adults, either ignore the whining or we pick up the pace. I estimate, I've only seen 10% really of the World Showcase. The fact that I know there are replicas of the Trevi Fountain in Italy or the Terracotta Army in China is just because I'm a Disney nerd and I've read it, not seen it with my own eyes. My girls even pulled me away from watching the model train make it's rounds outside the German pavilion. I'm still bitter.
4. Stroll the Boardwalk.
The last thing I would do in Walt Disney World without kids on this walking theme is take in the Boardwalk. Disney World's website describes the boardwalk as "a quarter-mile promenade of exquisite dining, unique shops and exciting nightlife," where you can "play afternoon midway games and discover evening street performers" and more. I've never got to do any of that and it sounds amazing! I've seen it all lit up at night and it looks beautiful. I've heard the music, hootin' & hollerin', and cheering calling me over and we've always had somewhere to go and something else to do. I would definitely make the Boardwalk a destination left on my own.
5. Resort Hop.
Speaking of the Boardwalk, I have "walked" through the lobby once, very quickly, on the way to somewhere. I have been to Cape May Cafe at Disney's Beach Club Resort, but that's all I've seen of that beautiful hotel. I snuck into Stormalong Bay once at the Yacht Club. The closest I've been to the Swan or Dolphin is Fantasia Gardens across the street. In other words, there are many resorts on Walt Disney World property that I have just had glimpses of that I would love to explore and discover all they have to offer.
Among other experiences, I wouldn't miss Fire Rock Geyser's 120 foot spray which erupts every hour at the Wilderness Lodge. The Sassagoula River at Port Orleans would lead me to the swinging jazz music at Scat Cat's Club. And the Polynesian Punch at Trader Sam's Grog Grotto at the Polynesian Resort would be sipped at the close of a long day while watching the fireworks from across Seven Seas Lagoon. There are over 20 resorts at Walt Disney World which all present unique theming, recreation possibilities, dining, and more. And the great thing is you don't have to be a guest staying at one of them to visit it and take in all it has to offer.
6. Dine at the Top of the World.
One of those exclusive dining experiences unique to Disney's Contemporary Resort is the California Grill (formerly called The Top of the World) on the 15th Floor with incredible views of the Magic Kingdom. However, it is too expensive for our budget with a family of 4. But for a party of one . . . I may have to splurge and make the rest of my family jealous. Ha ha ha Others may choose dining at Le Cellier at Canada in Epcot or Victoria & Albert's at the Grand Floridian, but California Grill would be my choice doe Disney World without kids.
7. Shop.
I don't know about shop 'til I drop and I definitely don't need to do much purchasing, but I am a big fan of window shopping. In addition, I don't like being rushed to find the one souvenir you get to go home with or waiting all vacation long and being stuck with the choices at World of Disney at Disney Springs. So I would take my time seeing all my choices in all the shops in all the parks before deciding on my "must-have" that gets to come home with me.
Besides actual shopping, there's also tons to see in Disney shops beyond t-shirts and magnets, gizmos and gadgets, and thing-a-ma-bobs. It was pointed out to me on a scavenger hunt we did once that there is a plaque in the Briar Patch store that says, "Briar Sweet Briar." So cute! Plus, have you ever seen the mural in the Emporium that honors many Imagineers that worked on Walt Disney World? Me neither.
8. Take pictures. Not selfies. (Well, I would try to resist at least.)
Not mandatory pics in front of the castle. (But they're mandatory.) Not blurry snapshots that I tried to take while I was "walking" through the parks. I'm talking about those artsy-fartsy, not a real person in them, ones that you may actually get printed, zoom-in, wait for just the right moment, photographs. That would be fun. This can only be accomplished at Disney World without kids.
9. ESPN Wide World of Sports.
What's at the ESPN Wide World of Sports Complex? I don't know. I had to look it up to write this article. Where is it? Kinda over by the All-Star Resorts, I think. I mean, it looks amazing from what I've seen. But what do you do there? I don't know! But I want to find out!!
10. Take a tour.
This is the only number that I could see actually happening with my family. They might appreciate the Backstage Magic or Behind the Seeds tours. I know they would love the ones at Animal Kingdom Park. The Keys to the Kingdom or Marceline to Magic Kingdom tours may not be up their alley though. The main reason I would leave them behind on this hypothetical solo vacation at Walt Disney World without kids is primarily because of cost. Despite that though, I bet if you gave them the choice between 7 hours of learning about the attractions or 7 hours of experiencing the attractions for themselves, they would still choose the latter. Therefore, since this is my dream sequence, I get to go by myself . . . unless my wife wants to join me too. Nah, who am I kidding? She wants to ride the rides too.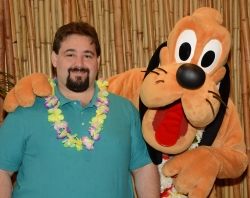 JM has been a Disney fanatic his whole life. He has a life-long love of all things Goofy and is a big kid at heart. JM is from NY and loves to visit WDW several times per year. He can tell you lots of things about Disney and/or help you plan your DREAM Disney Vacation. He is an authorized Disney Vacation Planner and Travel Agent.
DVC Member/WDW Annual Passholder/DCL Castaway Club
203-939-7389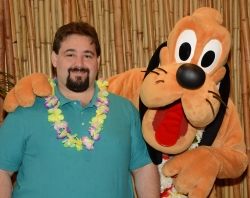 Latest posts by JM Oliveri
(see all)