Disney Aulani's Rainbow Reef
Nestled in the heart of Waikolohe Valley pool area of Disney's Aulani Resort sits Rainbow Reef. Rainbow Reef is a man-made lagoon, this current free clear 77 degrees Fahrenheit pool offers amazing views of the natural marine life in the Hawaiian waters. What is hiding in Rainbow Reef, besides a secrete Menehune? This 3,800 saltwater lagoon is home to thousands of tropical fish and artistically carved rocks. One side of the lagoon has large viewing windows so you can enjoy all of the colors and beauty of these amazing tropical fish.
Viewing Window
Bruce, from Disney Pixar Finding Nemo, said it best " Fish are Friends, Not Food". How about taking some time out of you our day to get to know our sea friends a little better. With the Fish are Friends program offered through Aunty's Beach House, Children ages 3 through 12 can get a close-up experience with Rainbow Reef's tropical fish. This three-hour program offers an inside look at how the animal specialist take care of our fish friends through training, feeding and special care. This experience must be reserved in advance and has an additional fee. Please contact your travel agent for more details.
The Rainbow Reef Fish Feeding Experience is fun for the whole family. The experience starts off with a brief introduction with one of Disney Aulani's animal specialists who will talk about the many tropical fishing calls this lagoon home. They will explain the difference between many of the fish, especially what they eat. Some of the fish in the lagoon are herbivores, some carnivores and some are omnivores. Now that you can tell the difference, make your way to Rainbow Reef Walkway for your chance to feed these beautiful creatures and take a picture or two. This experience is approximately 15 minutes and has an additional fee.
Snorkeling
Want to get an even closer experience with Rainbow Reefs tropical fish? Snorkeling is a great way to see get a closer look at the stunning sea creatures. Rainbow Reef is open for snorkeling though out the day at an additional cost. One Day passes, as well as the length of stay passes, are available please contact your travel agent for more details. A mask, snorkel set, and life vest are provided, everyone must wear a life vest.
Supplied- Air Snorkeling (SAS) is also available at Rainbow Reef. This experience offers a one-on-one underwater tour with a knowledgeable aquarist. Your guide will share some interesting facts about the reef and the fish who call it home. As part of this tour, you will be fitted with a regulator and equipment to help you float. The experience is offered to guests ages 8 and older, at an additional fee. Reservations are required please contact your travel agent for more details.
Underwater Explorers

Underwater Explores offers the closest experience with marine life in Rainbow Reef. During this experience, you will receive a 2-hour scuba-diving lesson from trained dive instructors. You learn the basics of scuba diving, learn safety procedures and have the opportunity to practice your new skills. This great experience allows you to get face to face with the tropical fish of Rainbow Reef during your free swim. Including in the experience is the use of a mask, fins, wetsuit during your program. You get to take home a special water flask with the program logo, Rainbow Reef Fish ID card, and a video of your experience. This experience is offered to anyone 10 years of age and older, at an additional fee. Reservations are required, please contact your travel agent for more details.
Rainbow Reef is a must-see stop when visiting Disney's Aulani. With its picture-perfect photo opportunities and tropical fish viewing areas, from scuba diving to feeding the fish, this exotic reef has something for everyone.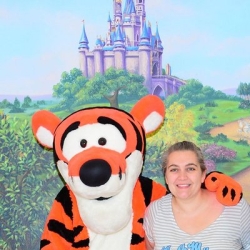 Experience Architect
at
Clubhouse World Adventures, Llc.
Mom. Wife. Teacher. Adventurer. Blogger. Travel Agent. more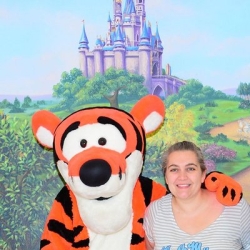 Latest posts by Sierra Pepi
(see all)