Calling all Cheese Lovers & Connoisseurs! Emile, from Disney Pixar Ratatouille, invites you to join him on Emile's Fromage Montage. This new experience taking place this year (2019) at Walt Disney World's Food and Wine Festival.
Emile's Fromage Montage Stamps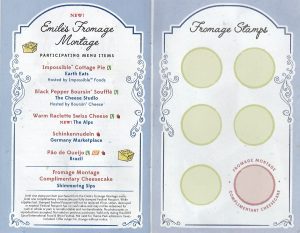 Emile has picked out his favorite cheese dishes throughout Walt Disney World Food and Wine Festival and created a fun Cheese Crawl for you to enjoy. Inside your free Food and Wine guide, you can find your two-page guide to Emile's Fromage Montage. Here you can see the list of dishes and where to find them. All the dishes range in price for $4.25 to $5.00 each or you can use a Disney Dining Plan snack credits.  Make sure you get your passport stamped after you purchase your item. Once you have gotten all five stamps make your way to Shimmering Sips for your Complimentary Fromage Montage Cheesecake. First stop here we come!
Impossible Cottage Pie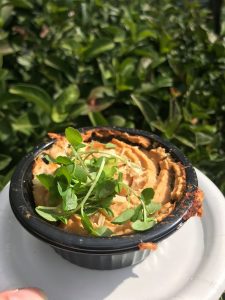 For our first stop we make our way to Earth Eats hosted by Impossible Foods to try the Impossible Cottage Pie. When you think of cheese, cottage pie is probably not the first thing you think of. This Impossible Cottage Pie has the perfect blend of vegetables and impossible ground meat topped with a blend of mashed cauliflower, white bean and mozzarella. The mozzarella adds a level of creaminess that really ties this whole dish together. So grab a fork and dig in.
Black Pepper Boursin Soufflé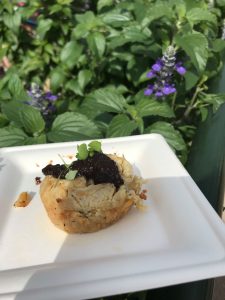 Of Course, you cannot have a cheese crawl without stopping at The Cheese Studio hosted by Boursin Cheese. This stop is a cheese lovers dream! Make sure you try the Black Pepper Boursin Soufflé.
This light and airy dish is sure to tickle your tasted buds with the soft cheese flavor coupled with the lite kick of black pepper and sweet fig topping.
Warm Raclette Swiss Cheese dish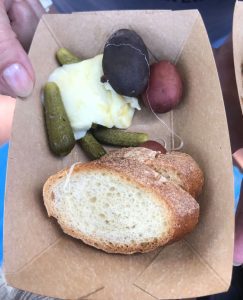 As we now journey to The Alps, to try their Warm Raclette Swiss Cheese dish. This warm cheese is served with slices of soft baguette, cornichons, and baby red potatoes. Make sure you eat this dish warm while the cheese is soft and gooey. This dish is also perfect for sharing, so everyone dig-in.
Schinkennudeln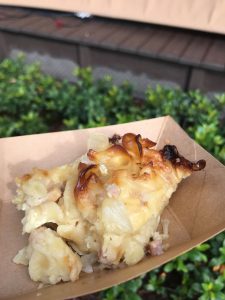 Next stop is at the German booth located just outside the German Pavilion. Here we will find Schinkennudeln. This rich dish is filled with baked noodles mixed ham, onions, and oozing with cheese.
There is nothing light about this dish, it is full of flavor.
Pão de Queijo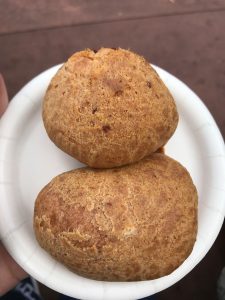 The final stamp that you need is located at the Brazil Booth, here you will try Pão de Queijo. This looks like a boring dinner roll but there is more then meets the eye. This warm crusty outside reveals a warm fluffy inside with a bold cheese flavor. Good thing you receive two on your plate so you don't have to share if you don't want to.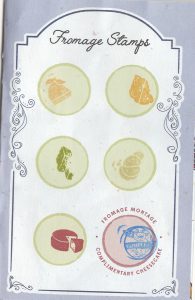 Congratulations! You have completed the Emile's Fromage Montage. Emile would like to reward you with a delicious treat. Make your way to Shimmering Sips located in the front of the World Showcase. Show the cast member all your completed stamps and receive your FREE cheesecake. This mini dessert has a crunchy crust with a sweet cream cheese tropical fruit cheesecake topped with white chocolate medallion with Emile's Fromage Montage icon on it. A perfect reward.
This is a great way for individuals and families to explore some of the delicious dishes from Epcot's 2019 Food and Wine Festival.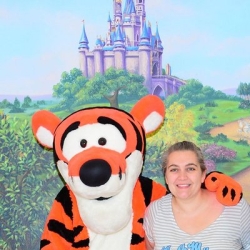 Experience Architect
at
Clubhouse World Adventures, Llc.
Mom. Wife. Teacher. Adventurer. Blogger. Travel Agent. more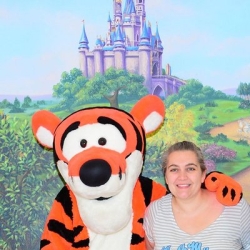 Latest posts by Sierra Pepi
(see all)