Frequently Asked Questions
We get lots of questions from first time or even some long time Disney World vacationers. While you will find the answers yourself in our Walt Disney World 101 post, We are happy to share some of the Frequently Asked Questions here.
Is the dining plan really worth it? Am I going to save money with it or is just a convenience thing?
The dining plan has some great benefits to it. For starters there is the obvious convenience of paying for it in advance so that you are not surprised or strapped for cash when on your trip. Aside from that, the benefits vary from family to family. It is great for parents with teenagers who may separate for a portion of the day since you wont need cash. There are three different plans which you can tailor to your dining preferences. With everything, it is how you use it which will determine the dollars and sense worth it, but value inst just about money but also about convenience and opportunity cost.
What do you mean by park hopper? Do I really need it?
Standard park tickets
allow guests access to a single park for the entire day. You are free to enter and exit that park as often as you would like for the entire day but you can not leave one park and enter another. That is of course, unless you add the park hopper option to your ticket. This allows you to, as the name implies, hop between parks! It allows you to start your day in, for example, the Magic Kingdom and finish you day in EPCOT. Maybe you want to do more than a single day in the park and want to split a day up. Another reason could be that you want to eat at a restaurant in a different park. Your plans will dictate when you do and do not need this flexibility. If you aren't huge into planning, You can also always improvise your time at Disney and in which case, flexibility is key.
Is 5 days enough?
5 days is enough for a taste of Disney. There is so much to see, do and experience at Walt Disney World that I am confident in saying that it would be difficult if not impossible to do everything is even 10 days. There is just so much. That being said, you could spend 5 days full of specifics or an eclectic blend of things that give you an insight into what else Disney has to offer on your next Disney vacation. Rides and attractions are just one element of the things to do at a Disney park but depending on your route, endurance and the season, you can complete the rides at all 4 parks in 5 days. The trade of to this is that you will have missed everything else that Disney World has to offer. The characters, the shows, the parades, attractions, dining, special events, smelling the roses, in short, THE MAGIC!
Will there be anything for my kids to do at Epcot?
Everything! My daughter has been to EPCOT about 8 times. She loves it just as much as we do. She is turning 3. Once of her favorite things to do is get her passport stamped at each country and to do the seasonal Epcot scavenger hunt. Most recently it was finding eggs during flower and garden. In addition to that, her favorites include Journey into Imagination featuring Figment, The Seas with Nemo & Friends, Behind the Seed, Donald's Gran Fiesta Tour boat ride in Mexico & Frozen Ever After in Norway . She also loves to start her day in Epcot with either breakfast at Akershus Royal Banquet Hall or breakfast with Mickey and friends at The Garden Grill. For lunch or dinner, we typically catch the show at Biergarten and do some German dancing while we eat! Zicke zacke zicke zacke hoi hoi hoi!
We are going to skip Animal Kingdom because we are members of the zoo at home so we don't think we need to see it. Will we be missing much?
In a word, YES! Its true that a zoo has animals. Disney's Animal Kingdom Theme Park does more than just show you animals. It offers a first hand look at ourselves and our planet. The park centers on environmental balance and its sections focus on different aspects of that focus. A day in animal Kingdom is like an expedition adventure. You can catch a live animal safari through the Serengeti, ride the Kali River rapids, scale Mount Everest or take a trek through the Jurassic era with Dinosaurs! For young adventurers, you can find Camp Mickey Minnie, Rafiki's Planet Watch or become a credentialed Wilderness Explorer and earn badges as you go through the park. On Discovery Island you will find the parks icon, the Tree of Life. The Tree if Life is in itself a wonder to behold. Carved within it are countless animals that live and roam this planet. Animal Kingdom isn't just a day time park either, at night you can catch the River of Lights show and see when the park goes wild!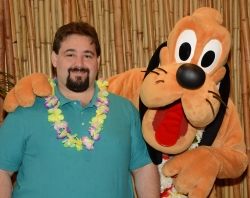 JM has been a Disney fanatic his whole life. He has a life-long love of all things Goofy and is a big kid at heart. JM is from NY and loves to visit WDW several times per year. He can tell you lots of things about Disney and/or help you plan your DREAM Disney Vacation. He is an authorized Disney Vacation Planner and Travel Agent.
DVC Member/WDW Annual Passholder/DCL Castaway Club
203-939-7389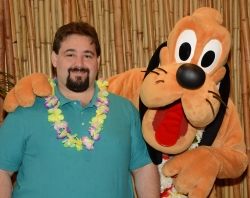 Latest posts by JM Oliveri
(see all)