Are you looking for a truly unique character dining experience? Here you have it! On the second story of the Land is the home of the Garden Grill Restaurant. Chip and Dale bring along some friends. Typically Mickey and Pluto in their full farmer gear come to your table also so make sure you have your cameras and autograph books ready.
The Garden Grill Restaurant is open for Breakfast, Lunch, and Dinner and characters attend all three meals. The Garden Grill serves "all you can eat" family-style meals. During breakfast hours treat yourself to Mickey Waffles with a Chocolate- Hazelnut drizzle, thick-sliced bacon and sausage, scrabble eggs and fruit, hash browns. You get to start your meal off with the famous Chip's Sticky Bun Bake. It is absolutely delicious! During Lunch and Dinner, you get to start your feast with some harvest-inspired garden salad. The salad features seasonal vegetables picked from Disney greenhouses as seen in the Living with the Land attraction. Following the salad is grilled beef with chimichurri, turkey breast, macaroni, and cheese with seasonal veggies, herb and leek stuffing and potatoes in two ways. Make sure you save room for some homemade Berry Short Cake with fresh whip cream. You will definitely not leave this place hungry.
The Views
The characters are fun, the food is delicious, but what makes this restaurant truly unique is the views. While you dine, your seating area slowly revolves around so you can see the vibrant views of the opening part of the Living with the Land attraction located below the restaurant. You get to views of the Rainforest, Desert, and Great Plains. Do not worry you will not get dizzy on this ride, it takes a full hour for the restaurant to complete a full circle. Make sure you also take note of the beautiful music being played while you are dining.
There are several songs from the original ride, "Listen to the Land", before it was renamed in 1993, such as 'Listen to the Land', Rainforest Rhapsody', and 'Dawn of a New Day" which are featured among new songs for an overall magical experience.
This unique character dining experience is on many people's must do's so reservations are highly recommended and can be made 180 days in advance. Ask your travel agent to help grab this sought after reservation for you.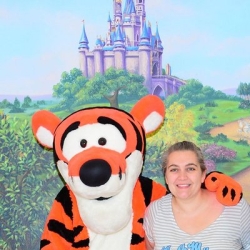 Experience Architect
at
Clubhouse World Adventures, Llc.
Mom. Wife. Teacher. Adventurer. Blogger. Travel Agent. more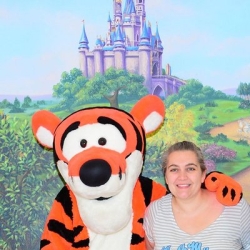 Latest posts by Sierra Pepi
(see all)