Exclusive Inaugural FanDaze Party – June 2, 2018
You may be asking, what is FanDaze? Well, it is the newest character event party from Disney Studios in Paris and I certainly hope that it finds its way to the US. This was a character-centric event and you can experience this amazing event for 4 magical hours in a closed park if you are able to get a ticket. This year was the very first inaugural event but I am sure this will become an annual event. I am already planning my return.
Special FanDaze Parades/Show
Dance You Duck Tales Parade: See you friends from Duckburg parade through the streets and dance. What a fun parade. This was really a big favorite of mine.
Max-LIVE: Gettin' Goofy With it: We all know Max, he just wants to Stand Out! Dressed as Powerline, he does just that. He is met with a bunch of his Disney friends including joining Panchito and Jose as the substitute third Caballero.
FanDaze Street Party Parade: All FanDaze Characters parade through the park. Catch who you missed. This was one of the best parades I have ever seen.
Jumba & Pleakley's Mission: Stitch! A unique experience for Disney FanDaze as Stitch Live! presented by Jumba and Pleakley

Scheduled Character Meet & Greets
As you can expect, some characters picked a spot to meet with fans and take photos at FanDaze. No autographs please so the line keeps moving. These lines got very long but included characters such as: Meg & Phil, Quasimodo & Esmerelda, Louie & Baloo in their Tale Spin costumes, Chip & Dale in their Rescue Ranger costumes, Dark Wing Duck, Launchpad McQuack, Lady Ya Ya, Gauchito and Burrito, Kronk & Kuzco, Joy & Sadness, Elena of Avalor, Anna, Elsa, Olaf, Kristoff, Mr & Mrs Incredible, Frozone, Jim Hawkins, Milo Thatch, Kida, Honey Lemon, Go Go Tamago, Fred, Wasabi, Bolt, Mittens, Clarice, Clarabelle Cow, Horace Horsecollar, Clara Cluck, Sully, Boo, George Sanderson, Needleman, Mickey Mouse, Minnie Mouse, Donald Duck, Daisy Duck, Goofy, Duffy, Pluto, ShellieMay & Ortensia for the first time ever in a Disney Park!
Surprise Encounters
What would FanDaze be without a few surprises! Some characters were not announced or were simply roaming around to be found so you had to keep looking. We saw Roger Rabbit, Eddie Valiant, Remi & Emil, Chef Linguini, Yzma, Hiro Hamada, Shan Yu, Li Shang, Hades, Hercules, Jumba, Pleakley, Stitch, Gantu, Oswald the Lucky Rabbit, Louis Robinson, Wilbur Robinson, Bowler Hat Guy aka Goob, Marie, Berlioz, Toulousse, Lilo, Briar Bear, Briar Rabbit, Briar Fox, John Smith, Ratcliffe, Jafar, Bullseye, Buzz Lightyear, Scrooge McDuck, Huey, Dewy, Louie.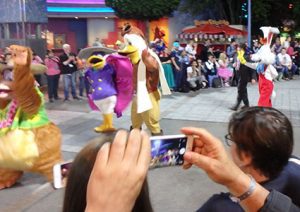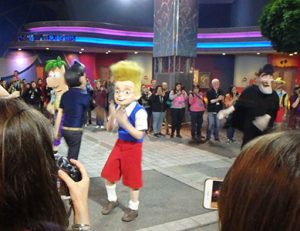 So after all of that. What is FanDaze ? FanDaze is simply amazing!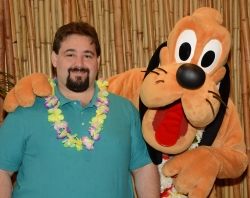 JM has been a Disney fanatic his whole life. He has a life-long love of all things Goofy and is a big kid at heart. JM is from NY and loves to visit WDW several times per year. He can tell you lots of things about Disney and/or help you plan your DREAM Disney Vacation. He is an authorized Disney Vacation Planner and Travel Agent.
DVC Member/WDW Annual Passholder/DCL Castaway Club
203-939-7389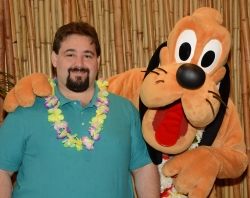 Latest posts by JM Oliveri
(see all)