Oogie Boogie has done it again! He has taken over Disney California Adventure for another Oogie Boogie Bash! On select nights from September 17, 2019 through October 31, 2019, Join Oogie Boogie and his villain friends as they create Halloween magic throughout the park. There are magical shows, nighttime spectacular, treat trails, dance parties, decorations galore and of course special meet and greets with your favorite Disney Characters. This special ticketed event starts at $110 per person. Please contact your travel agent for more details and booking.
Carthay Circle
How do you know that Oogie Boogie has taken over Disney California Adventure? Just take a look at Carthay Circle Restaurant. Take a look at the bell tower, you might just see a swarm of bats leaving from it. With an eerie glow, you know that Halloween is here. If you dare to go in you will find that Carthay Circle Restaurant has a few themed items on the menu, enjoy!
Luigi's Honkin' Haul-o-ween
Make your way to Radiator Springs, they are in the Halloween spirit. The whole town is decorated for the holiday. Luigi and Mater really wanted to get into the Halloween fun by changing their rides for the season. Luigi Honkin' Haul-o-ween, come dance the night the way to some spooky beats. At Mater's Graveyard JamBOOree, doge the cobwebs and the hootenanny as you race around the graveyard. Do you think you are brave enough to take a Halloween Adventure with the team of Guardians of the Galaxy-Monsters After-Dark? Join Rocket in his race to rescue a fellow Guardian.
Costumed Characters

Mickey and the gang want to join in the Halloween fun. Here is your chance to get your picture and autographs of your favorite Disney Characters dressed up in their favorite Halloween costumes. Who do you think they will be this Halloween season? Who are you going to be? Come to the Oogie Boogie Bash in your Halloween costumes to join in the fun with Mickey. Please check with Disney California Adventure for their guidelines and rules.
Trick or Treat Trails
The Disney Villains are up to their old tricks but what about the treats? The Disney Villains have decided to join in the spirit of Halloween and provide treats for all who dare to come to say hello. Make your way down the Treat Trails where you will find your favorite Disney Villains along this immersive path as they create a Halloween adventure with cauldrons of Halloween treats. You never know who you are going to meet or what treat you will get.
Mickey's Trick-or-Treat Show
Mickey and Minnie love Halloween and so do all their friends. Join Mickey, Minnie, Goofy and Donald is a special Mickey's Trick or Treat show. Mickey's pal Parker decided to dress as a mad scientist for Halloween but he may be taking it a little to far. You never know what is going to happen in the interactive show, everyone might be running from bats and spiders. A ghost might come to say hello and there may be a special trick or treat from Mickey and the gang. This show is playful and silly with 2 original Halloween songs, video projections, spooky special effects, bubbles and interactive family fun. Check your map for showtimes.
Villain Grove
How brave are you? Channel your inner villain as you journey down Villains Grove. Villains Grove is a winding road where you experience the tranquil beauty of the Disney Villain escape. Who are you going to encounter on this journey? First, travel through the cathedral of the tree of Frollo's sanctuary on this candle lite path. Soon you will see shadows of Ravens flight overhead as you enter Maleficent's Will. The twisted vines are aglow with a waterfall of magical colors. As the vines slowly turn in to rose bushes. Watch carefully as the roses paint themselves red before your very eyes. You have entered the Queen of Hearts Garden, be careful not to lose your head. Can you hear that? The sound of hyenas echoing laughter as you enter Scar's Elephant Graveyard. As you leave the graveyard, beware of where you step as you see shadowed hands and colorful spells dance at your feet. Dr. Facilier's Friends on the Other Side will guide you deeper along the trail. CRACK! Lighting never strikes in the same spot unless it's controlled by magic. The Queen's lighting forest lights up the whole forest as her lighting flashes from tree to tree. Follow that Wisps! Follow the wisps they will lead you out of the lighting forest and tot he home of the wisps and to the end of the trail with a sea of colorful light. This journey through Villain's Grove is a not-so-spoke trail full of lights and music to create a Villain's wonderland.
DescenDANCE
As the Villains are out and about throughout Disney's California Adventure, who is watching the Villain kids? The VK decided to through a party themselves. Make your way to the Backlot area of Hollywood Land to join in the DescenDANCE party. Here everyone is invited to hit the dance floor. You can show off your own moves or you can follow along as dance crew members from the Isle of the Lost show off some amazing dance moves all put to the music of the Descendants Trilogy. Keep an eye out, you know who might say hello with the help of those handy magic mirrors.
Frightfully Fun Parade
The first thing you are going to see during the Frightfully Fun Parade is Ichabod Crane looking very nervous and skittish indeed. Ichabod Crane would be outright running if he knew there was more the just the Headless Horse with his flicker Jack-o-lantern behind him! Mickey Mouse and the gang start the Frightfully Fun Parade dressed to the nines in their Halloween outfits. Followed by The Pumpkin King himself, Jack Skellington. Jack and other residents from Halloween Town come to celebrate their favorite time of year. It is not a Halloween parade without the Haunted Mansion and their grin grinning ghost coming out to socialize. Beware of the hitchhiking ghost. Speaking of friends from the other side, Mr. Facilier and his shadow friends will be making their appearance on a bayou themed float. Watch Out! It looks like your favorite Disney Villains will be out and up to their old tricks. You never know who will be coming to join in the mischievous fun. Rumor has it there may even be a dungeon-like lair may take over the parade route. Make sure you stay to the end of the Frightfully Fun Parade, you might catch a glimpse of the Cheshire Cat curious smile. Please check the map for parade times and route.
Villainous!
During party nights World of Color takes on a whole new light in the World of Color Nighttime Spectacular- Villainous! Shelley Marie, a new character created by Eric Goldberg, wants to create the perfect Halloween costume this year. She worries if she is strong and unique as her favorite Disney Villains. Shelley Marie goes on an adventure meeting some iconic Disney Villains such as the Queen, Ursula, Dr. Facilier, Hades, Jafar, Maleficent and more. Villainous! Tale is narrated by Oogie Boogie, see this incredible journey through Fountains, lights, laser projections, and special effects. Villainous! It is a must-see! Please check the map for showtime.
Oogie Boogie Bash is sure to be a night filled with chills and thrills, and a whole lot of treats. Make sure you don't miss your chance to see these great shows, walk the treat trails and see your favorite Villains. Talk with your travel agent for more details about Oogie Boogie Bash and event ticket purchases.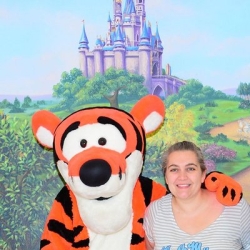 Experience Architect
at
Clubhouse World Adventures, Llc.
Mom. Wife. Teacher. Adventurer. Blogger. Travel Agent. more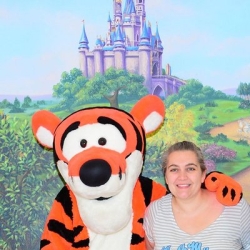 Latest posts by Sierra Pepi
(see all)