The Pirate and Pals Fireworks Voyage and Dessert Party is by far one of the best experiences. I have attended many ticketed parties in all my years at Disney World. I have done fireworks dessert parties in all 4 parks as well as both Disneyland parks. Previously, I held the Illuminations dessert party to be the favorite, which is now my runner up. This is a must do for kids and adults alike.
The Pirate evening begins on the second floor of the Contemporary Resort. There are activity sheets and a scavenger hunt for Early-birds to keep them entertained until the party begins. All pirates are asked to wear the provided pirate bandanna to designate them as crew for the voyage.
The Pirate Dessert Party
The party is hosted by twin pirate brothers, Patch and Patch. They provide all of the information and introduce the two special pirate guests, Captain Hook and Mr. Smee, for photos and autographs. Guest mingle for 30 minutes while enjoying their dessert and company. The desserts and refreshments include pirate gold chocolate coins, mickey ice cream, chips, cake & assorted beverages and cake but are likely subject to change. Who doesn't love a Mickey Ice Cream? The party has a very piratey feel to it from the decor to the music from pirate duo Bones and Sharky of the 'Neverland Pirate Band' as seen on the show, Jake and the Neverland Pirates.
The Pirate Fireworks Voyage
Once the party has ended, guests are lead to their pirate boats by either Captain Hook or Mr. Smee as they set sail upon the Seven Seas Lagoon. They set out in search of the optimal viewing location. En route, Patch entertains the guests with pirate jokes, puns, trivia and sing-a-long pirate songs for all ages. The voyage is a great time for all on board. Yo Ho!
Due to the upcoming change in Magic Kingdom evening show, We were treated to a very special once in a lifetime treat. (For those who aren't aware, the Wishes fireworks show will be ending in just a few short weeks. The new show, will be 30% longer, 18 minutes versus 12 minutes) and begin an hour earlier. ) We left the dock a few minutes ahead of schedule and found ourselves on the water with front row seats for the start of the, World Famous, Electric Water Pageant. Our boat was mere feet from this fun Disney Tradition as it began. If you should be so lucky to have a similar opportunity, it is truly great to see up close. (Results will vary for this part and was a fluke and unlikely to be repeated.)
Once you return to shore, boats are greeted by Peter Pan himself. He escorted us off the dock and to a private photo area for more photos and autographs.
This party takes about 2 hours total from start to finish and is a great value at $72 per ticket per adult.  For more information or to buy tickets, visit the Disney website.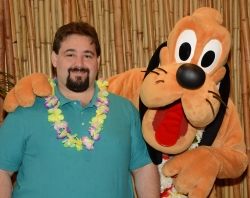 JM has been a Disney fanatic his whole life. He has a life-long love of all things Goofy and is a big kid at heart. JM is from NY and loves to visit WDW several times per year. He can tell you lots of things about Disney and/or help you plan your DREAM Disney Vacation. He is an authorized Disney Vacation Planner and Travel Agent.
DVC Member/WDW Annual Passholder/DCL Castaway Club
203-939-7389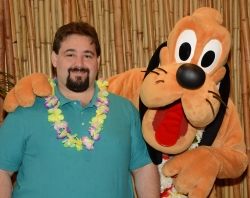 Latest posts by JM Oliveri
(see all)