I booked my first Disney Cruise, What Next?
A Disney Cruise is filled with so many options that it truly is designed for the whole family. A ship with so much to do can seem a little overwhelming at first but there is no need to worry. We will tell you all about each item so that you can decide if it is for you or not. Here are just some of the things to know about your first Disney Cruise Vacation.
Figure out what to Bring
Deciding what to bring on a cruise can vary from person to person and depend on where you are going. That being said, here are a few suggestions to get you started that you will need either way.
All sailings offer a pirate or themed party night. They do vary on sailings but you will want to be festive.
Formal & Semi-Formal Night
Sailings may include a semi-formal and/or a formal evening. While on formal nights, black tie is optional, many go all or or merely wear their 'Sunday best'. Photo staff are located throughout the ship on these nights to assist with photo opportunities.
Pirate Night
On pirate night, guests dress up and show off their piratitude. Pack ye cap'n hat or wear your provided bandana. You can also get made up at the Bibbidy Bobbidi Boutique on-board.
How are you getting to port
Disney offers Magic Express Shuttle to port for an additional fee. Other options include renting a car and driving yourself or others opt for private shuttle. Talk to your vacation planner about either and they can help you get set up. Be aware though that there are parking fees at port and that you will want to arrive early so that you do not miss the boat!
Fish Extenders and other on board community events
What in the world is a 'Fish Extender' ? Well, to answer this fully, lets start with the question: What fish? Each stateroom on board features a fish note card holder for your room. It helps cruise staff leave you notes and any relevant documents for appointments etc.. On Disney cruises, some guests are very interactive with each other and arrange for things like gift, recipe and magnet exchanges in advance through social media and online message boards. Its part of the on board fun of meeting people from all over. You would hang a collection device from your fish, extending its ability to collect just paper to now include items and gifts. Many use multiple pocket organizers which are decorated with a pocket for each guest's personality.
Free Drinks at Disney Vacation Club Demos
Disney Vacation club hosts several membership demonstrations throughout the cruise. They will make their sales pitch for you to decide if buying into the club is right for you. If you do decide to sit in and hear them out, you will be treated to a free alcoholic beverage. Stay to listen or leave after your drink is done. Sometimes, it takes repeating each time for a free drink to help you think it over. It is a big decision.
Spa Services
Each Disney ship features a full service spa and spa services. Treat yourself to a massage, facial or other a la carte services that help you relax. These services are in high demand so remember to book early.
Premium Dining
Disney is known for its outstanding dining experiences and on-board a Disney cruise ship is no different. The main dining rooms are great for every day meals but sometimes you want to go somewhere special. Perhaps for a date night out or to celebrate a special occasion. Palo and Remy are truly in a class all of their own. These additional add-on restaurant feature world class chefs and fine dining. At Palo, incomparable Italian dining and impeccable service sure to exceed your expectations are always on the Italian dining menu.
The French inspired counterpart Remy is offered currently only on the Dream and the Fantasy. Remy is A French-inspired menu of superior seasonal ingredients ensures dining at Remy is always a first-rate gastronomic affair. Gourmet selections are specially crafted by Chef Scott Hunnel, from the award-winning Victoria & Albert's at Walt Disney World Resort and advising Chef Arnaud Lallement—a 3-Michelin-starred chef who helms the celebrated l'Assiette Champenoise restaurant just outside Reims, France
Room Service
Complimentary room service, included in the price of your cruise, is available 24 hours a day, for breakfast, lunch, dinner and snacks. Don't forget to order a Mickey Ice Cream Bar!
Kids Club & Nursery
Disney cruises offer something for everyone which means entertainment for the whole family as a whole, or separately. While we know that family vacations are for families spending time together, there are also times where we all need age specific entertainment and socializing. The adults have there adult only section and so do the kids. Several in fact. Starting with the teenagers, ships feature teen hangouts and clubs too. Vibe is for your older, high school aged teens. From teens-only dance parties to karaoke to just kickin' it, there's tons of fun things to do! Edge is for tweens ages 11 to 14. It features high-tech entertainment including flat-screen TVs, computers and video games and featuring daily guided activities.
Oceaneer's Club & Oceaneer's Lab. Both cater towards children age 3-12. At Oceaneer's Club, Kids can interact with Disney characters and make new friends their own age. Oceaneer's Club features Character-driven performances, special storytelling sessions, larger-than-life play areas, dress-up opportunities and interactive activities. At OC Lab, kids can play and learn at sea through imaginative themed activities and games, offered daily.
Kids can romp, rest and do everything in between at this internationally themed childcare center. It's a Small World Nursery takes care of kids under 3 at an additional charge. Parents: Enjoy grownup time knowing your little ones are with expert Disney counselors enjoying fun and entertainment as well.
Shore Excursions
There are a great many things to do at all the ports of call on your Disney Cruise Vacation. Disney has assembled a great collection of options that work during your time on that island and you can make reservations for them directly through Disney and they will be charged to you on-board account. Additionally you can venture out on your own or use 3rd party tour companies. Talk to your Vacation Planner to decide which tours and excursions are best for you and your family. Some excursions have age, height and other limitations.
Castaway Cay: Disney's Private Island
Specialty Themed Cruises
Disney offers several specialty themed cruises throughout the year. Holiday sailings include Halloween on the High Seas and Very Merry-Time Christmas sailings featuring visits by Santa & Mrs. Claus!
Halloween on the High Seas: Join Mickey & Minnie and the gang as they adorn their Halloween costumes for a spook-tacular good time. Tricks and Treats all around the ship make for a scary good time.
Very Merry-time Cruises: Santa takes his vacation with Mickey and the gang to welcome Christmas to the cruise ship and welcome in the season. Mrs. Claus serves up hot chocolate & cookies while reading Christmas stories to good little boys and girls. You have never sampled hot chocolate until you have had it made by Mrs. Claus herself. It is the best cup around. Available in hot or warm. Warm is my favorite.
Additional cruise themed include Star Wars & Marvel Day at Sea cruises. Meet your favorite characters and enjoy themed entertainment and treats. There may even be a surprise or two.
Planning your Next Cruise
There is nothing like a vacation. The hardest part is always the realization that every vacation comes to an end. The good news is, there is always the beginning of a new vacation. Planning the new vacation during your current vacation helps to ease the feeling of returning to daily life. The good news is that you don't need to do all the planning on the ship. You can have help once you get home but just knowing that you are returning for your next cruise is enough. While on board you can take advantage of on-board booking promotions. See the future cruise desk for details When you set up your cruise be sure to list your Vacation Planner so that they can take care of all of the heavy lifting for your next trip as well.
Need a Vacation Planner? JM Oliveri is a great Vacation planner with years of Disney and non-Disney experience. Don't want to wait? Get a quote with the form below!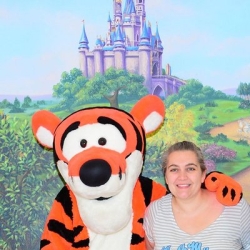 Experience Architect
at
Clubhouse World Adventures, Llc.
Mom. Wife. Teacher. Adventurer. Blogger. Travel Agent. more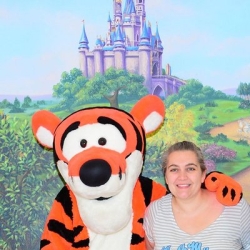 Latest posts by Sierra Pepi
(see all)